Box from Jerusalem
Gift boxes from the Mahane Yehuda market to the world
"Box from Jerusalem" – Just what is it?
The box that makes those who receive it, shed tears of happiness.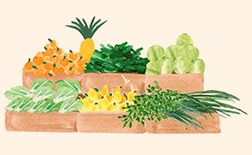 Food tour of the Mahane Yehuda market
Tours of the Mahane Yehuda market, tastings and more surprises according to mood and season...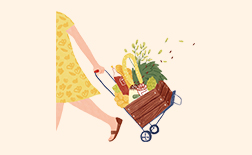 What We Do
We can send the tastes of Machane Yehuda market to you... whether you live in israel or abroad.
What We Do
Hi,
My name is Chen Koren, and I live in the Machane Yehuda Shuk (market), in Jerusalem, at the heart of the world.
Every day I meet groups at the Shuk, and take them on a culinary journey, up and down and across the Shuk, eating the dishes that tell the story of Jerusalem.
I've been doing this for eight years, every day, sometimes twice a day. The Shuk is my second home, the merchants are my second family, sometimes I see them more than my own children.
From my life in the Shuk, I created a new product—Box From Jerusalem.
It's a cozy box of locally-produced treats that I have collected from the Shuk and its surroundings.
If you have friends or family in Israel, you can now send them a delicious pampering box from the Shuk.
Additionally, we ship our boxes abroad, so if you are missing the smells and the tastes of the market we can now deliver them to your doorstep!
Box from Jerusalem
Know those who always find it hard to buy gifts because they have everything? Those who aren't excited about anything?
For them (and for you) I created Box from the Market-
A beautiful wooden box containing all the good, delicious and fresh of the Mahane Yehuda market.
No one doesn't cry tears, come see.